Published on Wednesday, June 6, 2018 by Kathy McCabe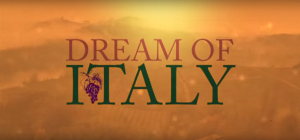 A message from Steve Perillo…
Italy is a dream.
Perillo Tours has been making that dream come true for more than 70 years!
That's why we are thrilled to support our friend Kathy McCabe and her PBS travel series Dream of Italy. For two seasons, Perillo Tours has been a proud sponsor of the show!
Season 2 is now airing…take a 90-second Italian break and watch the trailer:
You can watch the six episodes of season 2 – on Venice, Florence, Bologna, Abruzzo, Basilicata and Kathy's ancestral hometown Castelvetere sul Calore – on your local PBS station. (Put your zip code into the search box on this page to find out when it is airing in your area.) The show is also available on YouTube and you can also watch Dream of Italy on CreateTV on Mondays at 9 a.m. and 3 p.m. ET and Fridays at 9 a.m. and 3 p.m. starting July 2nd.
When the show has fed your dreams, we at Perillo Tours are here to make your dreams a REALITY! Join one of our famous escorted tours of Italy – we take care of everything and introduce you, like Kathy does, to the locals we love! Or if you want to do Italy YOUR way, we can custom plan any dream vacation through ItalyVacations.com