Published on Tuesday, October 30, 2018 by Kathy McCabe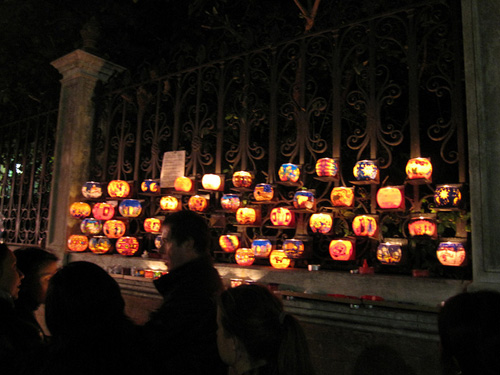 Halloween in Italy has grown more popular over the past 10 years or so, especially with children excited to dress up and eat sweets. While Halloween still isn't as big of a celebration as it is in the U.S., it is now not uncommon to hear children walking through shops and neighborhoods saying Dolcetto o scherzetto? (Trick or treat?).
Refreshingly, Halloween in Italy lacks the abundant commercialism of the American version of the holiday. There are carved pumpkins, themed candies, and simple decorations and costumes (think witches and ghosts), but nothing over-the-top. Although Halloween has pagan origins, the holiday – also known as All Hallow's Eve – falls just before the Catholic holidays of All Saint's Day on Nov. 1 and All Soul's Day on Nov. 2, dedicated to honoring saints and departed loved ones, respectively. These holidays are widely celebrated in Italy, and adding Halloween to the mix seems logical.
Like in the U.S., many restaurants and bars organize costume parties on Halloween, and children attend parties during the day. Festivities vary throughout the country, but perhaps the most notable celebration occurs in the town of Corinaldo in Le Marche. Corinaldo refers to itself as the Halloween capital of Italy and hosts a weekend of entertainment, music, fire, and spookiness throughout the town, called The Feast of the Witches.
Meanwhile, the town of Borgo a Mozzano in northern Tuscany claims it started the first and largest Italian Halloween celebration in Italy in 1993, a multiday festival that centers more on the scary and supernatural aspects of Halloween and includes fireworks, horror experiences, games, and music. Some tourist attractions such as catacombs also present special Halloween tours.
Whichever way it's celebrated, it seems Halloween in Italy is here to stay, mixing cute and fun elements with classic scary scenes.
Ready to travel to Italy? Perillo Tours has been leading group trips throughout Italy since 1945 and ItalyVacations.com can custom design an independent itinerary for your dream Italy vacation!
Taking your first trip to Italy soon? Learn everything you need to know when you get your FREE copy of The First Timer's Guide to Italy by ItalyTravel.com contributor Kathy McCabe
Photo by skinnylawyer, flickr.com