Published on Friday, October 5, 2018 by Kathy McCabe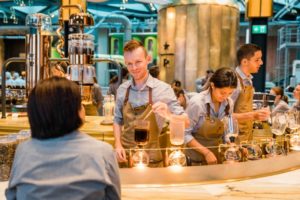 Starbucks' first Italian location, which opened in early September in Milan, is switching up its menu to appeal to a country with an unrivaled coffee culture. Gone are the Frappuccinos, the green-and-white to-go cups, and the American-style donuts and pastries, replaced with a focus on more classic coffee drinks and food that appeals to Italians' palate.
The upscale Starbucks Reserve Roastery, the company's third roastery location in the world after Seattle and Shanghai, features Starbucks' deluxe reserve coffee. Customers can learn about the process of coffee roasting, from roasting to de-gassing to packing, by watching the process happen in the on-site coffee-making equipment, including a Scolari roaster that was made just outside Milan.
Further, an engraved wall at the entrance explains the history of Starbucks – and customers can use an augmented reality app to learn more. The 25,000-square-foot roastery – the largest Starbucks in Europe – is decorated with Italian marble finishings, pops of bright colors, and bronze fixtures.
At an affogato bar, customers can watch the popular ice cream and espresso dessert being prepared with made-to-order liquid nitrogen ice cream. The Arriviamo cocktail bar on the mezzanine serves up more than 100 drinks during the aperitivo hour. Some of the drinks are coffee- and tea-inspired, such as an espresso martini, while others, like a Negroni or an Aperol spritz, are distinctly Italian.
Snacks and light meals are also on the menu, including cakes, pastries such as brioche, focaccia and pizza, which is made in a wood-fired brick oven from the on-site Princi Bakery.
Starbucks' prices are higher than at typical Italian coffee bars, but the gorgeous location in Piazza Cordusio and the high-end offerings may well be worth it.
By Kathy McCabe