Published on Monday, January 7, 2019 by Kathy McCabe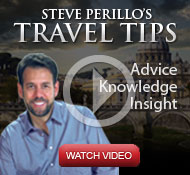 I'm Steve Perillo of Perillo Tours. I have a video series called Steve's Travel Tips to share all the insider Italy travel tips I have learned over a lifetime of travel to Italy.
In this video, I'd love to share a video about a new Perillo Tours escorted tour of Italy: South & Sicily Tour! You will absolutely love these authentic corners of Italy and we can't wait to show them to you, Perillo-style! And check out the 13-day itinerary!