Published on Thursday, February 28, 2019 by Kathy McCabe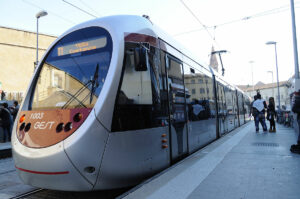 A new tram line has opened in Florence, connecting the airport and the city center at Piazza dell'Unità near Santa Maria Novella Central Station in 22 minutes. The T2 line is the second tram line to open in Florence and has 12 stops. The T1 line opened in 2010 and links Villa Costanza with Careggi in the northern outskirts of Florence, passing through Santa Maria Novella along the way.
Passengers on both tram lines can connect to trains at Santa Maria Novella station, and to buses at stops along the tram routes. C
Tickets are good for 90 minutes and cost 1.50€. Passengers must buy a ticket from a bar, newspaper stand or tabacchi (cigar shop), and validate the ticket by punching it in the machine on board the tram. Service runs from 5 a.m. to 12:30 a.m. Sunday through Thursday, and 5 a.m. to 2 a.m. on Friday and Saturday.
Florence eventually plans to open a third tram line to serve the western part of the city, but construction on that line has not yet begun.
By Kathy McCabe