Published on Wednesday, March 6, 2019 by Kathy McCabe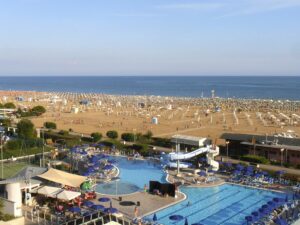 The Venitian beach resort of Bibione  will ban cigarettes beginning at the end of May, in time for the summer crowds. The beach is the first to ban smoking in Italy, and intends to eliminate cigarette butt pollution and the exposure of visitors to secondhand smoke. Italy banned smoking in enclosed public places, such as offices and restaurants, in 2005, but so far has not implemented bans in outdoor areas.
When the ban takes effect, smokers will be able to light up in designated smoking areas 300 to 400 meters from the ocean. More specifics of the ban, including fines and permissions for e-cigarettes, will be announced in May.
As part of an eight-year trial from the Breathe the Sea Air project, the beach banned smoking from the edge of the ocean to the first row of beach umbrellas. From 2014 to 2018, 550,000 cigarette butts were found on Bibione beach.
Bibione is the fourth-most visited beach in Italy, with more than 5 million visitors in 2017 and five miles of shoreline. In a survey, 50% of visitors indicated they would support the permanent smoking ban, and an additional 26% said they would be in favor as long as the resort provided designated smoking areas. Both the World Health Organization and Italian health organizations also support the ban.
"We're interested in giving the people who choose to spend their holidays here the chance to breathe the clean sea air without having to put up with polluting substances that are harmful to health," Pasqualino Codognotto, mayor of San Michele al Tagliamento-Bibione, told The Guardian. He added that the local tourism industry supports the ban.
The Italian National Tumour Insititute's Stop Smoking Center, which studied air pollution on and around Bibione beach, found that air pollution levels were highest at 10 meters (about 33 feet) away from smokers. There, the output of black carbon – toxic nanoparticles – for the duration of smoking one cigarette was 7.4 micrograms/m³, compared with 2.1 micrograms at the resort's entrance and 1.8 micrograms on the beach overall. In addition, cigarette filters contain plastic cellulose acetate, which can take 10 years to decompose.
Dr. Roberto Boffi, head of respiratory medicine at the National Tumour Institute, said, "My team and I have worked with the resort to show that passive smoking on beaches can be extremely harmful. It is breaking important new ground with this scheme and I hope other beaches will follow its example soon."
By Kathy McCabe