Published on Monday, April 29, 2019 by Kathy McCabe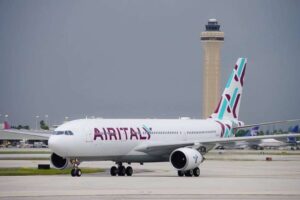 Air Italy has launched service service with direct flights between San Francisco and Milan after taking its inaugural flight to San Francisco on April 10.
The 12-hour nonstop flight runs on Wednesday, Thursday, Friday and Sundays and leaves San Francisco Airport (SFO) at 7:10 p.m., arriving in Milan at 4 p.m. the following day. Return flights leave Milan at 1:35 p.m. and arrive at SFO at 5:10 p.m. the same day.
The Houston Chronicle reports that prices for June flights in basic economy are around $1,200 round trip, while prices for October decreased to $619.
Air Italy's Airbus A330-200 wide body planes are outfitted with a maroon and turquoise color scheme. Formerly known as Meridiana, the airline came into new ownership in 2017 and got a complete overhaul, including rebranding and new planes, with intentions of competing against Alitalia, Italy's flagship carrier. Among its new owners is Qatar Airways, which has a 49% stake in Air Italy and is leasing Air Italy's five Airbus A330 planes from its own fleet.
The planes' 236 economy seats are arranged in a 2-4-2 configuration with 31 inches of leg room, monitors with free movies and TV, and a universal power outlet in each seat. Wi-Fi costs 3 euros for 20MB of data. There are no premium or extra-leg room economy seats. Twenty-four angled business class seats, in a 2-2-2 configuration, recline flat for sleeping.
In North America, Air Italy (IATA code IG) serves Los Angeles, New York—John F. Kennedy Airport, Miami and, starting next month, Toronto. Its hub is in Milan, but domestic connections within Italy are available to Rome, Naples, Palermo, Catania, Lamezia Terme and, in the near future, Sardinia. The airline also flies to several cities in the Middle East and Africa from Italy.
Currently, Air Italy uses its five Airbus 330s on long-haul flights and has five Boeing 737 Next Generation planes and three Boeing 737 MAX planes, which it has now grounded due to safety concerns regarding the MAX jets.
By Kathy McCabe