Published on Thursday, June 6, 2019 by Kathy McCabe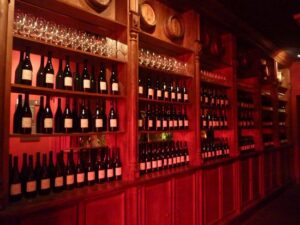 In a 10th-century castle in northwest Italy's Piedmont region, wine enthusiasts can get a taste of the area's incredibly famous wine and its history. The Barolo Wine Museum (WiMu) is dedicated to the historical and cultural significance and evolution of wine consumption across Europe, and was designed by Francois Confino of Switzerland.
Exhibits, spread over 25 rooms on four floors of the historic castle, include the discovery of wine and its history across nature, Mesopotamia, ancient Greece and Rome, and 19th-century Europe. Rather than focusing on how wine is made, WiMu offers a masterclass in wine's relationship to society over the centuries. Multimedia installations, including a kitchen and movie theater, explain the influence of wine on religion, myths, art, music, and literature. Mythical figures are prevalent in the museum, including in the wine cellar and a depiction of the Garden of Eden that replaces apples for grapes as the forbidden fruit.
The museum also explains how European royalty in the 19th century came to favor Barolo, Piedmont's famous red wine. At the end of the 90-minute tour, visitors can sample wines from each of the 11 cities that produce Barolo wine. The museum is open daily from 10:30 a.m. to 7 p.m. and admission is 8 euros.
By Kathy McCabe