Published on Tuesday, March 22, 2011 by JacobMartin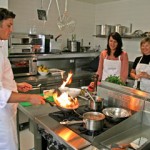 Italy is one of the most-frequented tourist destinations, which is well-known for its beguiling beauty, admirable art and architecture, and unique culture. However, an interesting fact that most of us are unaware is that many people tour to Italy just for the sake of enjoying its cuisine and learning Italian recipes. It is for this reason that Italy houses many cooking schools teaching Italian recipes, not only to the residents, but also to the tourists. Italy cooking schools offer a completely different experience, which is sure to make the trip etch in your mind forever.
Not every Italy cooking school offers the same learning experience and benefits! Some include extras like lodging, excursions, or meals, while some don't. Some schools even offer you the freedom of choosing packages that last from a day to almost a week or longer. Make your choice accordingly! Though there are many Italy cooking schools, the ones in Tuscany and Umbria regions remain the most popular. So, do a brief research on the various schools and also the budget factor before deciding upon one. When you are done, just sign up and set off to Italy to discover some of the famous Italian delights!
Cooking classes in Italy are really exciting, as you will enjoy scrutinizing the Italian market to shop the necessary ingredients required for the day's recipes. If you're thorough enough, you might locate a cooking class that includes a visit to the nearby winery and cheese maker. Here you can get an insight on the actual process involved in their making, while learning some of them. When you are away from the kitchen, you can hang around in some of the exotic places that are close to your cooking school.
Sign up in one of Italy's cooking schools, visit Italy, learn the best Italian recipes, and return home carrying the pride that you are a master in Italian cuisine. For more culinary vacations in Italy, visit ItalyVacations.com