Published on Tuesday, May 10, 2011 by Kathy McCabe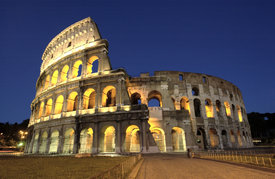 Did you know that Italians absolutely adore children? Maybe it has to do with their family-oriented culture as well as the fact that the country of Italy has a fairly low birth rate so there just aren't as many little ones around. This means Italy is the perfect place for a family vacation! And within Italy, absolutely consider taking the kids to Rome — with all of the ancient ruins and mesmerizing structures, it is better than any fake amusement park plus you will be giving your kids memories to last a lifetime!
The best part about Rome is that main sites (the ancient ruins, the Vatican, Trevi Fountain, etc.) are easy and worthwhile to see with kids. But when you're looking for some ideas that are a little bit out of the ordinary, consider these places to visit in Rome with children:
Gladiator School: This is an experience, I promise you, your family will never forget. And when in Rome…do as the ancient Romans did. Yes, you can actually go to Gladiator School, right off the Appian Way in the shadow of the Colosseum, where you and/or your kids will receive two hours of historically accurate training and time to practice what you learn. Don't worry, the swords that are used are made out of foam! Every participant goes home with a Roman tunic and a certificate.
Among All The Museums, There's One for Kids: This might be just the thing to do on a rare rainy day in the Eternal City — visit Explora, Rome's museum for children. The museum is devoted to how every day things work, there's a mini-supermarket as well as a real-life kitchen for kids' cooking lessons.  Everything is totally hands on, so even though the exhibit explanations are in Italian, your kids won't mind (the staff speaks English). You need to reserve a time to visit, so be sure to call ahead or have your hotel concierge call ahead before heading over there.
Room to Roam in Rome: If the babes need to run around, Rome's second largest park and certainly one of its most beautiful is Villa Borghese. (The famous art-filled Borghese Gallery is within the grounds.) It is a terrific place to get away from the hub-bub of the Eternal City and just enjoy space to run. If your kids love animals (what kids don't?!), there's also a small zoo called Bioparco in the area.
Go Underground: This is more of an activity for the older children in your family but if they're fascinated by eery spaces and morbid history, why not take them to Rome's Catacombs?  These are the underground Christian burial chambers that were put into use at the end of the 2nd century due to a shortage of burial grounds in Rome. There are about 40 Christian Catacombs on the outskirts of Rome; a handful of which are the most famous to visit. There are also Jewish Catacombs in the area; two of which are open to the public.
By Kathy McCabe
Taking your first trip to Italy? Learn everything you need to know when you get your FREE copy of The First Timer's Guide to Italy by ItalyTravel.com contributor Kathy McCabe.
Ready to plan your Italy vacation? Perillo Tours has been leading group trips throughout Italy since 1945 and ItalyVacations.com can custom design an independent itinerary for your dream Italy vacation!