Published on Monday, May 2, 2011 by Kathy McCabe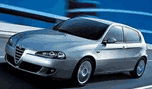 If it is your first time to Italy and you're concentrating on visiting Italy's big cities, you're not going to need to rent a car, in fact, it would be more hassle than anything. Parking (not to mention actually driving in city traffic) in Italian cities is extraordinarily challenging and chances are you will need to park in your hotel garage which would likely charge at least 30€ per night.
If you're traveling through the Italian countryside or renting a villa, renting a car is a necessity. For instance in Tuscany, train lines don't run to most of the small towns and buses are few and far between. Plus without your own wheels, you'll miss the great scenery along the back roads. A rental car offers the most flexibility since you can come and go without having to adhere to a schedule.
But ask yourself if you are really ready to drive in Italy? If you're a confident driver at home, you'll be more prepared to hit the Italian highways. Italians are fast, aggressive drivers and seem to have never learned how to use signals. While the Italian highways system (autostrada) is easy to navigate, you'll likely be spending at least some time driving on narrow roads where quick reflexes are a must.
Other things to keep in mind:
It is easy to get lost in Italy. Rent a GPS. It is worth the small added cost.
You absolutely want to reserve your rental car before you leave the U.S. because it costs more to rent a car when you're already in Europe.
The standard rental car in Italy is manual transmission. You will pay extra for an automatic car.
When choosing the size care you want, keep in mind two things. First, you want to make sure you have enough room for all the luggage you will be bringing. But on the other the hand, when navigating the tiny medieval roads in Italy's small towns, you are going to wish you had the smallest car possible.
Unlike in the U.S., your rental car is likely to take diesel gasoline. Be sure to double check before you leave the rental office.
By Kathy McCabe
Ready to take your first trip to Italy? Learn everything you need to know when you get your FREE copy of The First Timer's Guide to Italy by ItalyTravel.com contributor Kathy McCabe.  Perillo Tours specializes in tours for first-time travelers to Italy and ItalyVacations.com can custom design an independent itinerary for your very first Italy vacation!