Published on Wednesday, May 11, 2011 by Kathy McCabe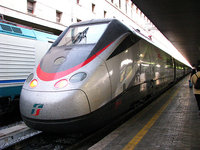 If you're traveling between Italy's cities, you should consider going by train. Enjoy the ride, look out at the lovely countryside and even take a nap while you're whisked from one city to another. If you're traveling between Italian cities, the train is definitely the way to go. For major city routes, hop on the Eurostar train, which will get you where you're going quickly and in comfort. You might want to pay for a first-class ticket to get a roomier seat and complimentary drink and snack.
One caveat though, if you are traveling with a lot luggage or have a hard time lifting your bags, train travel is going to be more challenging. While there are more and more elevators for individual train tracks in Italy, it is still possible you will need to carry
your luggage down one flight of stairs and then up another. Plus you'll need to lift it on to the train and storage space on the trains is limited.
Italians themselves depend heavily on the train system so it pays to buy your tickets ahead of time especially if you are traveling on a weekend or holiday. There's nothing worse than arriving at the train station to find out that your preferred train is sold out!
A few Italy train travel tips:
Leave yourself enough time to find your track once you get to the train station.
Be sure to validate your ticket in the yellow machine at the end of the track before boarding the train.
SAMPLE TRAVEL TIMES ON EUROSTAR:
Milan – Venice: 2 hours 45 minutes
Rome – Venice: 4 hours 33 minutes
Florence – Rome: 1 hour 38 minutes
Rome – Naples: 1 hour 27 minutes
By Kathy McCabe
Ready to take your first trip to Italy? Learn everything you need to know when you get your FREE copy of The First Timer's Guide to Italy by ItalyTravel.com contributor Kathy McCabe.  Perillo Tours specializes in tours for first-time travelers to Italy and ItalyVacations.com can custom design an independent itinerary for your very first Italy vacation!
Photo by Andreas, flickr.com