Published on Thursday, June 30, 2011 by JacobMartin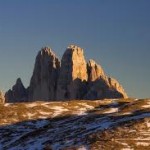 Do you often wonder why your family vacation lacks that excitement despite witnessing all the spectacular sceneries, breathtaking landscapes, and the hot spots? Well, the answer is pretty much simple – You might have failed to enjoy what the place offers the best. For instance, Italy – the place with some of the most splendid locales in the world, is a place that offers a whole range of adventure activities. Only while hiking in Italy or skiing in Italy can get a true glimpse of the place. The Dolomites are a great place to visit, if you want take your family vacations to new levels of excitement!
Celebrated as the paradise of the rock climbers and hikers, Dolomites will give your family a totally different experience. You don't have to worry about accommodation facilities, as there are hotels and even mountain lodges to take care of your lodging needs. You can make your job even simpler by booking your vacation through a reputed travel agent such as Perillo Tours. Here, you can customize your vacation packages to do what you want. So get ready to explore the spell-binding beauty of Dolomites during each day of your trekking trip. It's the best way to keep your kids active and give them an enjoyable trekking experience.
Wondering what is so special about Dolomites? Well, it's for a fact that you wouldn't get bored at any point of time while you are on the go. It'll not only keep your legs busy, but your eyes too!
The highlight of the Dolomite Mountains is its intriguing sceneries. The dashing beauty of the Valhalla Mountains and the majestic Sella massif never grows fainter with time. You cannot take your eyes off the pillars of Tre Cime di Lavaredo, the place that is sure to keep your camera busy.
Dolomite Mountains takes a new dimension during winters! The snow capped mountains will make your jaw drop in awe. It lets you enjoy snow sports like skiing, snowboarding, skating, and winter hiking. On the whole, Dolomite Mountains is the place if you want to experience the real Italy adventure! All you have to do is get help from Perillo Tours.