Published on Thursday, June 23, 2011 by JacobMartin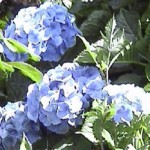 Summer in Italy is always refreshing. If you want to travel around Italy this summer, then make sure you include Bolsena in your itinerary. This ancient Italian city exhibits some of the most spectacular sceneries in the world, which makes it one of the favorite Italy travel destinations for tourists! In addition to the exotic locales, there is another special reason to visit Bolsena during summer. Wondering what that is? It's the dazzling Hydrangea festival!
The Hydrangea festival, one of the oldest Italian traditions, is usually held during the last weekend of June. Between 22nd and 24th of June, the city is decorated with some of the rarest species of Hydrangea flowers. The wonderful fragrance of these flowers lingers all around, and the beauty will be too overwhelming. The flowers are the only protagonist here and the whole city looks absolutely splendid decked up in attractive shades of white, purple, pink, and blue all around!
Just travel along the path of decoration and you'll find yourself strolling past some of the oldest streets from Piazza San Rocco to Piazza Matteotti, finally reaching the shore of Lake Bolsena. Take this opportunity to visit the Principe Don Giovanni del Drago's private gardens, which is open for visitors only during this festival. You will also get to taste the local liquor of Hydrangea leaves during this festival, which is otherwise a rarity!
After a pleasant walk along the streets of Bolsena, get ready to engage yourself in some fast action. Lake Bolsena offers a wide range of entertainment! You can rent a boat, get on board and admire the beautiful view of the places around. If you seek more action, then you can go snorkeling, windsurfing, and much more. Not just water sports, you can go trekking, horse riding, and mountain bike riding at this splendid spot!
Make a stop at the lake vineyards on the green hills around. You will find many types of wine to taste, buy, and carry along back home. What a perfect way to recall your Italian vacation! PerilloTours.com, one of the best travel guides to Italy, offer a lot of Italy vacation packages, which can make your trip to Italy all the more easy!
Photo by:bolsena.infoviterbo.it