Published on Thursday, July 21, 2011 by Daniel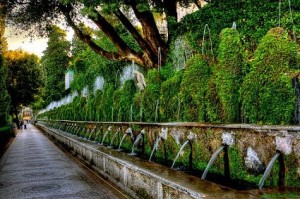 Italy is one exotic place, which is recognized for its explicit beauty, historic values, unmatched gastronomy, and much more! No wonder this place attracts hordes of tourists from all over the world. If you tour to Italy this summer, then spare a day especially to visit the master-piece Italian gardens near Rome – the Tivoli Gardens.
The highlights of the town of Tivoli  are the Villa d'Este and Hadrian's Villa, two of the most magnificent villas that were built during the Roman Era. When you visit the town of Tivoli, not only will the spectacular beauty of Mother Nature strike you, but you will also be enveloped by the breathtaking artistic creations!
Villa d'Este: The spell-binding villa with Italian frescoes and beautifully-furnished reception rooms along with the awe-inspiring gardens will hold you back to stay long. This is not all! Once you exit the palace, you will see numerous paths and steps that lead to a place revealing over 500 ravishingly decorated fountains. The beauty of the Fountain of Dragons, Ovato Fountains, and the Water Organ cannot be explained in words.
Hadrian's Villa: The historic origin of this villa is quite interesting. Impressed by the Greek and Egyptian architecture, Hadrian, the Roman emperor built this villa with taste and elegance. He had built it simply to enjoy his summer days, escaping the work pressures.     Besides the villa, the emperor erected a theater, libraries, basilica, fountains, gardens, numerous rooms for staff and guests, and temples. When you witness the remains of these artistic creations, you will travel back to the 15th century.
After having read all these, you would've sketched up an imaginary world around the Tivoli Gardens. Plan a vacation to Rome and visit the Tivoli Gardens to see if your fantasy world matches the real one. For the best touring guidance, get help from PerilloTours.com.