Published on Sunday, July 31, 2011 by Kathy McCabe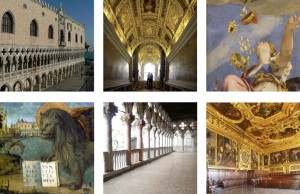 Once the seat of the government of the Venetian Republic, the palace of justice, and the residence of the Doge (the head of republic), the Palazzo Ducale or Doge's Palace is an incredible piece of history in Venice. The building is decorated with works by numerous Italian masters, including one wall entirely taken up by Jacopo Tintoretto's Paradiso. From the main building, visitors can cross the Ponte dei Sospiri (the Bridge of Sighs) to the Doge's prisons.
For a fascinating like at what life was like for the Doge and his enemies, reserve ahead for the Secret Itineraries Tour, given in English daily at 9:55 a.m.,  10:45 a.m. and 11:35 a.m. The 75-minute tour reveals places of intrigue not open to the general public. This includes the private working rooms of the Doge and the Stanza dell' Inquisizione (State Inquisitors' Room) as well as the Sala dei Tre Capi where the Consiglio dei Dieci met. There's the Piombi Prison (see Casanova's jail cell) and the maze-like passageways leading to the camera del tormento, the torture chamber where prisoners were hung by their wrists. The cost  is 18€ for adults and 13€ for students. Click here to book your tour ahead of time.
By Kathy McCabe
Taking your first trip to Italy? Learn everything you need to know when you get your FREE copy of The First Timer's Guide to Italy by ItalyTravel.com contributor Kathy McCabe.
Ready to plan your Italy vacation? Perillo Tours has been leading group trips throughout Italy since 1945 and ItalyVacations.com can custom design an independent itinerary for your dream Italy vacation!