Published on Friday, July 1, 2011 by Daniel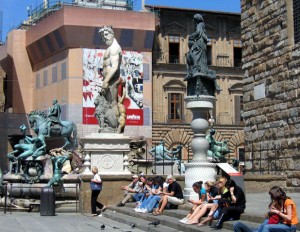 If you are a history lover, then you'll definitely love Florence. This Italian city with quite a lot of museums, historic buildings, and monuments is one of the most celebrated Italy travel destinations. Just for the delight of the swarms of tourists visiting this beautiful city each year, many hotels are being renovated and constructed.
Stay:
•    Luxury awaits you at every corner of the 18th-century Villa Medici-turned Grand Hotel Villa Medici. Although this villa was renovated several years ago, the unique pieces of art, the priceless hangings, and the overall romantic aura of the place are well preserved. Indulge yourself in the sauna or a Turkish bath at the Sina Fitness Club. Don't be surprised if you run into some famous celebrities when you dine at the Lorenzo de'Medici. The fact that this hotel is located at the heart of the city makes it even more irresistible!
•    Starhotels Michelangelo is a 4-tar hotel built in 1970s. The mirrored windows, yellow and red arm chairs in the lobby, and the Uffizi gallery paintings bring an artistic flavor to the place. Enjoy traditional Tuscan delicacies and international cuisine at II David, the hotel's restaurant. Historic structures, spectacular landscapes, and such impressive hotels make Florence one of the most loved Italy travel destinations.
Shop:
•    A holiday in Florence isn't complete without shopping! Take along beautiful hand crafted beaded jewelry, bags, and dresses as a reminder of a splendid vacation. In the southwestern part of the city, a quiet street called the Via Santo Spirito runs between the Arno and the Santo Spirito church. Pay a visit to boutique 46 Santo Spirito and Aprosio & Co!
Enjoy:
•    Enjoy visiting the three famous cathedrals Duomo, Santa Croce, and Santa Maria Novella that host spectacular works of arts!
•    Florence is a city of museums and art galleries. The Uffizi Gallery, Duomo Museum, and Palazzo Strozzi are some of the famous ones you should not miss!
•    The extensive landscapes and beautiful weather will tempt you to postpone your return journey!
So, if you want to enjoy Florence at its best, then log on to PerilloTours to find out about the latest Italy travel packages that include the wonderful city Florence!
Photo by:http://travelitalynow.net/wp-content/uploads/2010/11/signoria_square_florence_italy.jpg