Published on Monday, July 4, 2011 by JacobMartin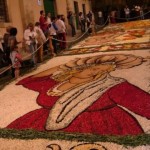 Italy during the festive season offers you an entirely different experience. Though a broad spectrum of festivals are celebrated in Italy throughout the year, this flower festival in Sicily – Infiorata di Noto is one of the most popular Italy festivals.
Lots of tourists flock to Italy during the month of May just to be a part of this wonderful festival. During this month the Sicilian flower festival, Infiorata is held at Noto annually. It is a great time to get to know its historic significance as well as the traditions followed.
Wondering what makes Infiorata di Noto so special? Well, flowers are the highlight of this festival. During this festival, you can see so many artists exhibiting their creativity with flowers. They adorn the Corrado Nicolaci Street with beautiful flower petals along with organic seeds and dried legumes, creating a stunning scene. A special organic soil is used for outlining the sidewalk, adding to the scene's exquisiteness.
Your heart is sure to miss a beat when you witness the final outcome of all individual works put together. The exhibit usually takes place on a Friday and the creative works of the artists are kept for viewing over the weekend. What happens next is quite interesting! On Monday, you can watch kids destroy the flower carpets by running through the flowers. It is a kind of  italy custom followed during this festival. The theme illustrates that the creation by the older forces are destroyed by the young generation for a renewal. It is not only followed in Infiorata, but also in many traditional festivals of Italy.
Get ready to witness the indisputable beauty of flowers carpeting the vast streets of Noto. Plan a tour to Noto, Italy with Perillo Tours and be a part of the Sicilian flower festival!