Published on Friday, July 22, 2011 by JacobMartin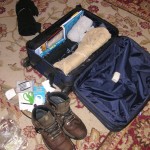 For those who have decided to set off to Italy this summer, yet do not know what to pack, here's a simple suggestion – pack light! A light luggage is always best if you want to avoid unnecessary hassle. However, make sure you pack everything you'll need for your holiday in Italy! Read on to know what they are!
Shoes: Italy has so much to offer, if you explore it by land, which means you'll have to walk a lot! So, get your shoes packed first. If you don't want to seem like an obvious tourist, then forget your sneakers and flip-flops. Get yourself a pair of walking shoes, preferably leather. Moreover, trekking and hiking in Italy's spectacular mountain ranges like Dolomites will be easy with a pair of hiking boots!
Dresses: Forget your bulky jeans and short skirts until you're back home. When you travel around Italy, finely tailored long skirts or knee-length shorts for women, and lightweight trousers with shirt for men are the best way to blend with the locals! Avoid packing gaudy dresses with fancy logos. Moreover, try not to take sleeveless dresses as some churches in Italy do not allow people with bare arms and shoulders.
Electronics: Avoid packing petty things like hair dryers and video games; you may as well get them in Italy. However, make sure you pack your camera, charger, and laptop if you really need them! Keep your baggage small for a hassle-free holiday in Italy.
Travel bags: Any vacation is incomplete without shopping. Get a travel bag or a knapsack to stuff things you shop. A money belt will be of great help while you travel around Italy!
Medications: You may or may not get your specific medicines on a foreign land. Why take risk? Take your prescribed medicines along with you.
What not to pack: Don't take any electronic gadget that needs a converter. You may end up spoiling your iPod or DVD player. Similarly, don't take along anything you don't want to lose.
Pack less, and enjoy a light and fun-filled holiday. Browse through Italytravel.com to get more Italy travel tips and ideas
Photo by:travellingprofessor