Published on Tuesday, July 26, 2011 by Daniel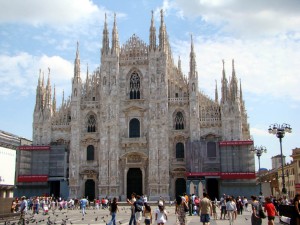 Heading off to Italy this summer? Then, planning your tour schedule can be a daunting task. Italy is home to a bevy of beautiful and exotic cities like Naples, Florence, and Rome. Another city that deserves a special mention is Milan. A trip to Italy is incomplete without visiting Milan! Apart from being the fashion capital of Italy, this ancient city is known for its stunning architecture, fantastic cuisine, and exciting opera!
Must-See Historic Places:
•  The Duomo, one of the largest churches in the world, is situated in the center of Milan. With 135 spires and over 3,400 statues, it took five centuries to build this magnificent cathedral. When you visit this cathedral, don't forget to climb up the roof and view the spectacular stretch of the city below!
•    If you admire the works of Leonardo Da Vinci, then you'll not want to miss visiting Santa Maria della Grazie. Let your eyes savor the beauty of 'The Last Supper' at this church!
•    Save one full day during your trip to Milan to explore the Castello Sforzesco. It houses 12 mini-museums and vast archives, which displays splendid art works of famous artists like Bellini and Mantegna! If you want to treat your eyes with the works of some more Italian artists, then visit the Pinacoteca di Brera art museum. You'll find the world's greatest artworks like the Mantegna's Dead Christ, Caravaggio's Supper at Emmaus, and more!
Milanese Cuisine:
Food in Milan has earned a special place in the hearts of tourists because of its unique flavor! Right from popular Italian foods like creamy pastas, meat products, and dairy delights, to international foods like maki and curry, you'll devour every bite of food in Milan!
Shopping & Relaxation:
The Galleria Vittorio Emanuele II is the place for you, if you're mad about shopping. You'll find a range of luxury shops selling everything right from books, jewelry, haute couture expensive silverware, paintings, souvenirs, and more. After a draining shopping experience, when you would like a rub down, head to the various hotels that offer excellent spas!
Plan a trip to Italy with PerilloTours.com if you want to catch Milan at its best.
Photo by :orangesmile