Published on Monday, July 25, 2011 by Kathy McCabe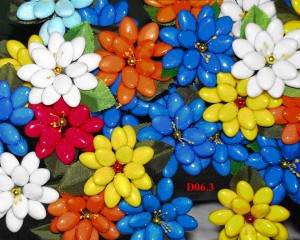 You practically can't get more different experiences than a small city famous for its almond candies and a town famous for its snakes. Where to find these experiences? In the region of Abruzzo…
Ever wonder where those colorful sugar-covered almonds called confetti come from? Sulmona is their birthplace and you can't walk the city's main street, Corso Ovidio, without seeing at least one store every few feet, displaying life-like flowers made of these traditional candies. (There are confetti colors for every occasion – white for weddings, green for engagements, yellow for baby showers, red for graduations.)
There's much to visit in sweet Sulmona – the Cattedrale di San Panfilo has survived numerous earthquakes over the centuries – but the true attractions the city's parks, picturesque streets and expansive Piazza Garibaldi, complete with Roman aqueduct. Latin poet Ovid was born here and his proclamation, Sulmo mihi patria est, (Sulmona is my homeland) is inscribed around the city. And of course, don't miss the candy…
Also in Abruzzo – What has made this small town of some 400 people famous throughout Italy, and indeed the world? Snakes. In early May, a number of grass snakes are captured (the town has snakes on hand all year round however for curious visitors) and on the first Thursday of May, they are placed on a statue of San Domenico and paraded through town in a centuries old tradition.
A pagan ritual, designed to protect against snake bites, and it has been transformed into a Catholic rite. Legend has it that if the snakes don't cover the face of San Domenico, then the year ahead will be a good one. Worried that one snake might take off and end up in your camera bag? "No," says one villager. "They don't move because they want to be on him."
By Kathy McCabe
Taking your first trip to Italy? Learn everything you need to know when you get your FREE copy of The First Timer's Guide to Italy by ItalyTravel.com contributor Kathy McCabe.
Ready to plan your Italy vacation? Perillo Tours has been leading group trips throughout Italy since 1945 and ItalyVacations.com can custom design an independent itinerary for your dream Italy vacation!
Photo from www.confettiovidio.it