Published on Thursday, August 18, 2011 by Kathy McCabe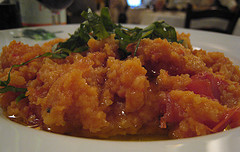 I first ate at Cammillo Trattoria more than 15 years ago during my first visit to Florence; I have since returned again and again, mostly to taste their excellent pappa al pomodoro (bread and tomato soup) or tortellini and enjoy the homey, if bustling atmosphere. This trattoria, a few blocks from the Ponte Vecchio, on the Oltrano side of the river, has been around for over 50 years and although Cammillo himself has passed on, his grandson still runs the show here. (The family farm in Tuscany provides many of the fresh ingredients).
It seems I'm not the only one who has nostalgia and  a soft spot in her heart for Cammillo. Mimi Sheraton, who writes for The New York Times, has eaten at Cammillo each time she has visited Florence since 1953, most recently after a 15-year absence.
"Through the years, however, Cammillo's came to be shrugged off by local cognoscenti as too touristic and old-hat. Never mind that the rustic wine canteen setting was always packed and alive with a multilingual din, through which the Italian language clearly held its own. Never mind also the enduring appeal of the simple, soul-warming food, the still moderate prices and the hectic but convivial service," she writes.
Always try to make a reservation, as Cammillo is a popular place.  If you can't get into Cammillo, try Mama Gina's right next door.
Borgo Sant Jacopo, 57/R
(39) 055 212427
Open for lunch and dinner Thursday through Monday.
By Kathy McCabe
Taking your first trip to Italy? Learn everything you need to know when you get your FREE copy of The First Timer's Guide to Italy by ItalyTravel.com contributor Kathy McCabe.
Ready to plan your Italy vacation? Perillo Tours has been leading group trips throughout Italy since 1945 and ItalyVacations.com can custom design an independent itinerary for your dream Italy vacation!
Photo by madhatrk, flickr.com