Published on Monday, August 29, 2011 by Kathy McCabe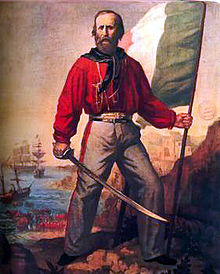 No matter which town you visit  in Italy, you're likely to encounter a a piazza, building or road named in honor of Giuseppe Garibaldi. Via Garibaldi is one of the most popular street names in the country. Giuseppe Garibaldi (1807-1882) won the majority of the military victories of the Risorgimento (translated as resurgence), a 50-year struggle to free Italian states from foreign powers, culminating in the unification of Italy in 1870.
Born in 1807, in Nice, the son of humble parents from Genoa, Garibaldi became a sailor at fifteen. While serving in the navy for the Kingdom of Piedmont-Sardinia, Garibald joined the movement of Giuseppe Mazzini, a Genovese revolutionary who founded the secret revolutionary society Giovine Italia (Young Italy) in 1832. It was the first Italian democratic movement to embrace all classes. "Neither pope nor king," Mazzini declared. "Only God and the people will open the way of the future to us."
After participating in a failed republican uprising in Piedmont in 1834, Garibaldi fled and was condemned to death in absentia by a court in Genoa. He sought asylum in South America from 1836 through 1848, where he helped Uruguay in its war against Argentina. He married a Brazilian woman, Anita, who joined him in the fight.
Garibaldi returned to Italy in 1848 to fight against the Austrians in Milan and the French forces supporting Rome and the Papal States. Although his exploits made him a national hero, Garibaldi and his volunteers were conquered in Rome. Determined not to surrender, he led his men in a successful retreat through central Italy in 1849. Anita Garibaldi died during this retreat.
Though Garibaldi was in exile several times, in 1854,Count Camillo di Cavour, the prime minister of Piedmont, authorized Garibaldi's return, hoping to wrest him from the influence of the republican Mazzini. In 1858, Cavour requested that Garibaldi prepare for war against Austria by leading a group of volunteers from several Italian provinces. Garibaldi and his men succeeded in acquiring Lombardy for Piedmont.
On May 11, 1860, Garibaldi and his 1,000 Red Shirts (volunteers wearing red shirts for which they were famous) landed at Marsala, Sicily, in an attempt to capture The Kingdom of the Two Sicilies (Sicily and the southern part of mainland Italy) from the Bourbons. Cavour and King Victor Emmanuel had not sanctioned the effort but stood at the ready to help if he proved successful.
A popular revolution in Sicily helped Garibaldi capture Palermo at the end of May and Milazzo in July. He left Sicily and sailed to Naples, entering the city on September 6, 1860, proclaiming himself the "dictator of the Two Sicilies." In October 1860, he handed over the Kingdom of the Two Sicilies to King Victor Emmanuel and was the first person to hail him as the king of a united Italy.
Although a new kingdom was established in 1861, Garibaldi did not look on it favorably. He opposed Cavour and criticized the lack of respect the new government showed the volunteer soldiers who helped build the new kingdom. Yet, Garibaldi continued to fight for his dream of a united Italy. He helped the kingdom acquire Venice in 1866. Once papal Rome was annexed in 1870, the Risorgimento was complete, finally uniting Italy.
Summing up Garibaldi's contributions to the Italian state, Denis Mack Smith, a Garibaldi biographer, wrote, "There was little of the intellectual about Garibaldi, yet his simple radicalism sparked the first political awareness in many of his fellow countrymen and brought home to them the significance of nationality. Notwithstanding his turn toward socialism, he remained primarily a nationalist, but the object of his nationalism was always the liberation of peoples and not patriotic aggrandizement. To his embodiment of this aim he owes his eminent place in Italian history."
By Kathy McCabe
Taking your first trip to Italy? Learn everything you need to know when you get your FREE copy of The First Timer's Guide to Italy by ItalyTravel.com contributor Kathy McCabe.
Ready to plan your Italy vacation? Perillo Tours has been leading group trips throughout Italy since 1945 and ItalyVacations.com can custom design an independent itinerary for your dream Italy vacation!