Published on Thursday, August 4, 2011 by JacobMartin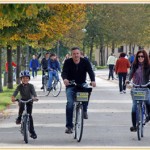 Italy is not just a couple's delight; it's a perfect holiday destination for kids too! Visit Italy with children and see for yourself how they'll love exploring the huge medieval castles, playing on those vast beaches, and learning history alongside. In case you haven't booked tickets for your children till now, do it now.
No doubt, Italy is great for kids. But, you must take them to the right places where they can enjoy. Do not visit church after church with your kids; it'll be boring for them. Here are a few popular Italy tourist attractions that your kids will find exciting.
Visit the Colosseum in Rome: Listening to stories about the gladiators and other intriguing facts about this very place will make kids go wild with excitement. They will be in awe of the magnificent construction of the Colosseum and the startling history behind it.
Travel around the Vatican City: Going on a tour of Vatican City with kids is highly recommended. Kids will enjoy exploring the Bioparco Zoo, and the amusement rides at the Janiculum Hill in the world's smallest country.
Explore the Waterways in Venice: A trip to Italy is not complete without visiting Venice. Kids will have a fun time sitting on a boat and exploring the beautiful canals there. A fun ride on a gondola will be especially exciting.
Visit Milan and Florence to Teach Art and History: Leonardo's 'Last Supper' at the Duomo in Milan and Michelangelo's statue of David in Florence will cultivate an interest for art among children.
Keep Kids Keyed Up: The great mountain ranges, lakes, zoos, and amusement parks in Italy, will make kids enjoy their Italy vacation to the core. Take them to the Umbria hill towns where kids can walk around the fascinating stone arches, drench themselves in the waterfall, and admire the awesome collection of mummies here. Give them the ultimate experience of swimming, boating, and all kinds of water sporting by visiting the Lake Garda. The Bomarzo Monster Park in northern Rome and the leaning tower of Pisa are some other places you shouldn't miss.
If you have decided to visit Italy with children, then get the help of PerilloTours.com to make it easy!
Photo By:ciaobambino.com