Published on Wednesday, August 3, 2011 by JacobMartin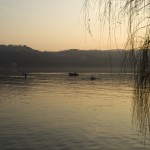 A holiday spent in Italy at Lake Garda will be so exciting and invigorating that you will never feel like returning home. Celebrated as the largest lake of Italy, Garda also prides itself as the loveliest of all Italian lakes. The panoramic view of the lake, sweet smell of vineyards, striking silhouette of valleys, picturesque views of castles, and the remarkable backdrop of Mount Baldo are definitely a visual treat!
Besides the indisputable beauty, Lake Garda in Italy is well-known for its sporting activities too. No wonder this place is nick-named as the paradise for adventurists. If you're a water sports enthusiast, then discover the wide range of water sport activities this lake has to offer. Right from windsurfing and kitesurfing to sailing and diving, you can enjoy almost any sporting activity. A romantic ride in a motorboat with your spouse will make your holiday in Italy all the more interesting.
Off the lake, you can enjoy sports activities like golfing, horseback riding, and tennis at this adventure spot. It is for this reason that Garda houses a lot of courts and courses to give you an unforgettable sporting experience. Let your hair down for some time and brace yourself for the next sport! Paragliding – doesn't it sound exciting?
Not enough of the adventures? Then, simply explore the Mount Baldo on a mountain bike. This mountain bike ride is sure to get your adrenaline pumping! Once you are done with the ride, you'll realize why Garda has been voted as the Best Mountain Bikers Destination in The World. You can also take your family and friends on a trekking expedition to explore the beguiling beauty of olive groves and vineyards outlining the hillsides.
With such exciting sports and exotic locales to boast of, the Lake Garda in Italy will certainly make your holiday in Italy worthwhile. By now you would've convinced yourselves to plan a tour to this adventure spot. For an ever-cherishing travel experience, get help from PerilloTours.com.