Published on Monday, August 1, 2011 by JacobMartin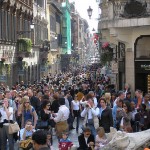 Rome is a wonderful tourist destination for families! While the historic tourist attractions in Rome interest men; the adventurous catacombs and museums get the little ones keyed up. And for women, Rome is the seventh heaven! With a myriad of choices to shop for everything right from chocolates to fashion accessories, shopaholic women will find it hard to wind up their shopping. If you're planning to visit Italy, then shopping in Rome should be on top of your to-do list!
With designer stores lined up along streets of great historic significance, Rome is an amazing blend of fashion and the past. So, shopping in Rome is a different experience altogether for those who are accustomed to shopping in sophisticated settings.
If you're fond of apparel shopping, then you'll be baffled by choices in Rome. With famous fashion brands like Giorgio Armani, Fendi, Prada, and Gucci, having their origins in Italy, you'll get the best deals on fashion gloves, silk accessories, and what not! However, to get your hands on the best goods, you have to stop at the right place. If you too feel so, then head to the Piazza di Spagna, a famous shopping street in Rome. After filling your travel bags with clothing, shoes, gloves, and bags from designer brands, refresh yourself and have a bite at the bed and breakfasts close by.
Rome is known for antique products like oil paintings, antique furniture, lamps, and decorative art. If you wish to add to your antique collection, then wander along the Via dei Coronari, a narrow shopping street in Rome dotted with fascinating antique boutiques.
Travelers who say no to luxury shopping because of their tight budget can also have a great time shopping in Rome. The one-mile stretch from Piazza Venezia to Piazza del Popolo houses a range of stores that open the door to alternate shopping and bargaining. Here, you'll get to spot beauty products, yummy chocolates and pralines, gifts, clothes, and sportswear at prices you'll love to pay!
Book your trip with PerilloTours.com to visit Rome without worries and troubles!
Photo By:redbubble