Published on Thursday, August 11, 2011 by Kathy McCabe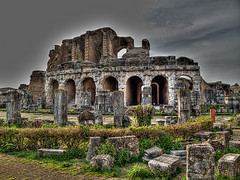 If you're planning a visit to the Campania region of Italy and want to take a journey far back in time, head to Santa Maria Capua Vetere, once the site of the ancient city of Capua, once the richest city in southern Italy. (Modern Capua was founded nearby in 857 by inhabitants forced out by the Saracens.) This is where Spartacus, a Thracian slave, launched a two-year long revolt of gladiators in 73 B.C.
Just outside the town is an imposing Roman amphitheater, second in size only to the one in Rome, built under Augustus, in the first century. Only two stories of the original four still exist, but underneath the structure, four covered galleries and six vaulted passages make for adventurous exploration. A  museum next to the amphitheater explores the history of gladiators.
At the amphitheater, ask for someone to escort you to one of the Mediterranean's best examples of a Mithraeum, an underground cave used to initiate men into the bloody cult of Mithras. Popular in ancient Rome, Mithraism emphasized the view of a world divided between good and evil and darkness and light. Its followers joined Mithras in his militant fight against evil. Discovered in 1923, Capua's Mithraeum contains incredibly well-preserved frescoes such as one of Mithras slaying a white bull.
To enhance your visit to this area, head over to modern Capua and visit the Museo Provinciale Campano, housing a fascinating collection of Deae matres, earth goddesses, from the 6th century to the first century B.C. These small stone sculptures depict women holding or suckling babies and were used to ensure a fruitful harvest. The museum also holds inscriptions from the ancient amphitheater as well as sculptures and paintings from various centuries.
Capua is about six miles from the small city of Caserta. There's also direct train service from Naples, 30 miles away.
By Kathy McCabe
Taking your first trip to Italy? Learn everything you need to know when you get your FREE copy of The First Timer's Guide to Italy by ItalyTravel.com contributor Kathy McCabe.
Ready to plan your Italy vacation? Perillo Tours has been leading group trips throughout Italy since 1945 and ItalyVacations.com can custom design an independent itinerary for your dream Italy vacation!
Photo by mihr, flickr.com