Published on Wednesday, August 24, 2011 by JacobMartin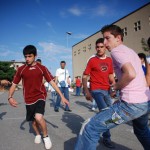 Go through the European history and you will understand the significance of Italy. The Roman Empire, birth of Christianity, eminent personalities such as Galileo, Napoleon Bonaparte, Mussolini, Leonardo da Vinci, Michelangelo, and the renaissance masters are all intricately woven into its history. They retain their importance in the contemporary world through cinema, fashion design and many other fields.
It is difficult to distinguish Italian people with one particular physical characteristic. The colonists from different countries including Greeks, Romans, Germans, and even Spaniards have immigrated from time to time that it is almost impossible to trace their origin. Even though Christianity took its birth in Italy, the most prominent religion in Italy is Roman Catholicism.
Italians love their language. Introduce yourself with 'buon giorno' (good day) informally. On a formal occasion, 'piacere' (pleased to meet you) will be a better option.
If you're lucky enough to be invited to dinner by an Italian family, then make it a point to pick some flowers and gifts for your hosts. However, you should be careful while picking up flowers as some flowers are associated with certain things deemed inappropriate. And don't forget to dress well. Italian people judge you by your dressing. So dress to the occasion. Italy is famous for its food and wine as much as it is known for its culture. So, a variety of delicacies such as pasta, meats, seafood and sweets might await you at the dinner table.
Italy is home to the most number of UNESCO World Heritage sites. And its influence clearly reflects on the Italian culture. The Colosseum, the Basilica of St Peter, the Trevi Fountain, the Forum, the Leaning Tower of Pisa, and the Pantheon give us just a glimpse of incredible Italy. Who wouldn't want to go sightseeing at Mt Etna, the Mount Vesuvius which destroyed the ancient cities Pompeii and Herculaneum, Sicily and Sardinia, Venice and other Italian cities?
The opportunities for fun and enjoyment are unlimited. You can go skiing, cycling, windsurfing, sailing – the list is almost endless.
With its amazing landscapes, architecture, and the rich Italian culture, tise European country never ceases to amaze people. There are lots of online travel guides to Italy. PerilloTours.com is one such reputed and trusted travel guide that offers you exciting packages for a refreshing vacation in Italy.