Published on Tuesday, August 30, 2011 by JacobMartin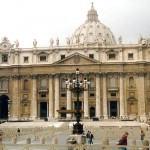 A surprisingly small city with an area of 110 acres occupied by just about 1,000 people,  Vatican City is the smallest country in the world. Although it is a part of Italy that is land-locked by Rome on all sides, the Vatican City is classed as a separate country on its own. If you're planning a trip to Vatican, then here is your list of things to do:
• The papacy is what makes the Vatican City truly special. Leaving the country without seeing the Pope is unacceptable. Every Wednesday the Pope holds an audience at his residence. Try and get yourself seated to hear the awe-inspiring speech! Who knows, you might get a chance to kiss his hands too!
• The Sistine Chapel is the official residence of the Pope, where the well-known Renaissance artist Michelangelo spent four full years painting The Creation of Adam on the ceiling. The Last Judgement is one more awesome painting you can lay eyes on! Tourists are allowed inside the Pope's residence for about ten to fifteen minutes to take in these wonderful artworks! A binocular will be of great use while visiting such tourist attractions in Vatican.
• While strolling through the Vatican Museums to reach the Sistine Chapel, discover the stunning artworks and sculptures lined up in as many as 1,400 rooms. You'll walk through the world-famous Raphael Rooms, the Map Room, the New Wing, the Octagonal Courtyard, and the Museo Egiziuseo Egizio. So, walk slowly to devour all the breathtaking views in sight!
• Visit the St Peter's Basilica, the largest Catholic church in the world. With great paintings adorning the walls, this church attracts art lovers from around the globe! Climb the dome of this building to see the wonderful Vatican gardens and a part of Rome below! Popes of various times have strolled past these 16th century-style gardens that house numerous exotic plants!
For more Vatican travel tips and ideas, log on to PerilloTours.com and make your trip to Vatican a memorable one!
Photo By:.sights-and-culture.com