Published on Monday, September 12, 2011 by Kathy McCabe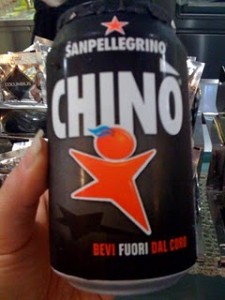 I'll admit it. This humble Italy travel writer — who gets to visit the land of la dolce vita and drink all kinds of fabulous wines — sometimes likes to drink something of a lesser vintage and quality — Diet Coke. I know, how could I? Well, on a recent trip to Italy, I discovered an alternative, of sorts, to Diet Coke, a good ole' Italian soda called "Chino." It has a light, citrus-y taste and is downright refreshing.
I did a bit of research when I got home and found out from the Drink Station Blog that San Pellegrino first bottled Chino under the name "Chinotto" in 1932. "Chinotto is a sparkling Italian soft drink named after the small, bitter citrus fruit of the Myrtle-leaved orange tree. The tree is believed to have originated in China, hence the name. Today Chinotto fruit is mostly cultivated in Italy, where the peel extract is an essential ingredient in Italian Bitters ('Amari'); alcoholic liqueurs drunk either as a digestif or an aperitif," the website says.

What unusual things have you had to drink in Italy? Or what do you look forward to drinking?
By Kathy McCabe
Ready to plan your vacation in Italy? Perillo Tours has been leading group trips throughout Italy since 1945 and ItalyVacations.com can custom design an independent itinerary for your dream Italy vacation!
Taking your first trip to Italy? Learn everything you need to know when you get your FREE copy of The First Timer's Guide to Italy by ItalyTravel.com contributor Kathy McCabe.