Published on Tuesday, September 6, 2011 by Daniel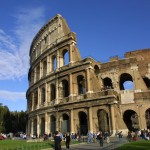 Of course, animated movies capture the interest of wider audiences, but nothing is as great as films that portray real life locations. The more the interesting places shown in the movie, the more we get to like them. Italy is one such country that has gained worldwide fame through countless movies. Let's see some of the popular ones that featured famous Italian cities like Rome, Florence, Positano and Venice.
Movies that have romance as the central theme are sure to pique the interests of audiences. A Room with a View is one such classic 20th-century romantic movie that is shot in Florence. While portraying love lives of a group of English tourists in Italy, this novel-based film beautifully describes the cultural differences between England and Italy.
Talking of romance, you could never forget The English Patient. Spanning famous Italian cities like Pienza, Arezzo, Siena, Venice, Trieste, and Rome, this movie brings out the true essence of Italy. It is shot in an Italian monastery-turned hospital where a young nurse and her amnesiac patient fall for each other.
Tea with Mussolini is yet another popular movie about Italy. Portraying the upbringing of a young boy named Luca, this film brilliantly describes the political issues about World War II. Shot in Florence, this film is an inspiration for many tourists to visit this ancient Italian city.
Roman Holiday is a romantic comedy of the 1950s. The story covers major Rome tourist attractions like Bocca della Verita, Castello Sant'Angelo, the Spanish Steps, and more. The film portrays the love story of Audrey Hepburn and a newspaperman in a very comical way! It's one of the excellent movies filmed in Italy.
Apart from Rome and Florence, one other city in Italy that is featured in many popular movies is Positano. The Talented Mr. Ripley, a psychological thriller movie bringing in crime and forgery, hit the screens in late 90s. Set in Italy, the movie takes you through the streets of Naples, Palermo, Positano, Ischia, Procida, Rome, Salerno, and Venice. Under the Tuscan Sun is also worth mentioning.
 Movies filmed in Italy are just countless. Celebrated as a country with a rich cultural legacy, Italy is the target for most moviemakers. If you want to travel around Italy, covering these movie locations, then plan a trip with Perillo Tours!
Photo By:phototheque.net