Published on Saturday, September 24, 2011 by JacobMartin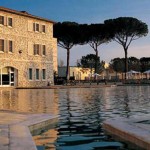 Are you tired of the everyday hustle and bustle? Then you should be desperate for a refreshing break. Have you brainstormed about the different ways in which you can revitalize yourself, but ended up undecided? Don't strain your brain and plan a spa vacation! Think spa vacation, think Italy!
Many people assume that Italy is well-known only for its stunning landscapes, picturesque cities, pristine beaches, artistic museums, delicious wines, unique culture, and gastronomic delights. Well, they are wrong. This country has much more to offer. One such attraction is the inimitable spa treatments they offer. Italy prides itself as a country that has the largest number of thermal spa resorts in the world. These resorts offer bang for your bucks, and sometimes a little more.
An intriguing fact about Italy is that their tradition of body and soul treatments can be traced back to ancient Rome. So, you can enliven all your senses and experience a sense of well-being.
For an invigorating and relaxing experience, spa resorts in Italy offer natural thermal springs. You can find a large number of such spas spread across the length and breadth of Italy. These places offer therapeutic properties and aesthetic treatments, which relieve stress in a natural way.
To treat your skin and revitalize your body, ancient baths are the best. While enjoying the striking views of hidden caves full of vegetation, you can wash off your weariness in the natural steam saunas.
Choose a thermal spa to immerse yourselves in the pleasures of nature while improving your health, physical well-being, and beauty. Some of the world-class thermal spa resorts are in Italy, and they include San Gimignano, Abano, Salsomaggiore, and Ischia. The wellness centers in Umbria, Trentino-Alto Adige, and Tuscany deserve a special mention as these places are widely frequented.
Health is wealth and good sense is bonus! Experience a spa vacation and treat your body and soul! Plan a spa vacation to Italy by getting help from PerilloTours.com.
Photo By:europelifeofluxury.com