Published on Tuesday, September 20, 2011 by Kathy McCabe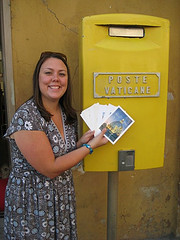 Many visitors to Rome take the opportunity to mail postcards and letters back home from another country, no, not Italy — Vatican City! The Vatican has had its own post office and stamps since 1929. More items are mailed from the Vatican City postal code (00120) per inhabitant than from any other postal code in the world. The Universal Postal Union has called the Vatican, "one of the best postal systems in the world."
In fact, the Italian postal system has such reputation for slow service that I know Romans who will only use the Vatican's postal system when mailing things abroad. Why? Well, your mail will get where it's going faster than if you mailed it from a regular Rome post office and spent the same amount. Plus, isn't it neat to have Vatican City stamps on your postcards? (Remember, you can't use Italian stamps here!)
There are several outposts of the Vatican Post Office including one near the museum and one of the left side of St. Peter's Square as you are facing St. Peter's Basilica. Another advantage of visiting the post office — their stamps are truly beautiful and the perfect souvenir to bring back home for any stamp lover.
If you're planning a trip to the Vatican, reserve a Skip The Line Tour or reserve for a Papal Audience.
By Kathy McCabe
Ready to plan your vacation in Italy? Perillo Tours has been leading group trips throughout Italy since 1945 and ItalyVacations.com can custom design an independent itinerary for your dream Italy vacation!
Taking your first trip to Italy? Learn everything you need to know when you get your FREE copy of The First Timer's Guide to Italy by ItalyTravel.com contributor Kathy McCabe.
Photo by acme41, flickr.com