Published on Monday, September 5, 2011 by JacobMartin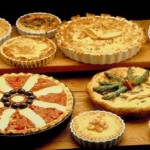 Mention Italy and a vision of mouthwatering dishes conjure in your mind. If you want to savor the authentic taste of pastas and pizzas, then you ought to plan a tour to Italy. Not just pastas and pizzas, Italy offers a wonderful palette of more such delectable recipes.
Pasta: It is undoubtedly one of the most popular Italian dishes. Did you know that there is a huge variety of pastas available and Italians group them accordingly – long, short, plain, stuffed and more? An interesting aspect is that each shape of pasta is matched with a specific sauce. Delectable isn't it? Just wait; there are more dishes to go!
Pizza: Naples prides itself for having introduced a mouthwatering dish like pizza to the world. There are basically two types of pizzas – the Neapolitan pizza and Roman pizza. Enriched with typical spices and herbs, including black olives, balsamic vinegar, parmesan cheese, pine kernels, and olive oil, these authentic Italian pizzas will certainly make your mouth water even long after you have had them.
Parmesan Cheese: The spaghetti and pasta dishes will miss their real flavor if you don't give them a topping of the parmesan cheese. The distinct taste and texture of Parmesan cheese make them a staple in most popular Italian cuisines. Produced in and around Parma Italy, this cheese is famous all over the world.
Risotto: Next comes risotto, a rice dish that is cooked in broth until a creamy consistency is reached. Meat-based, fish-based, or vegetable-based – you have ample choice of broths to choose from.
Minestrone: To experience the complete Italian meal, you just cannot do without minestrone – a rich soup made from vegetables, beans, pastas, and rice.
Zuppa di Pesce: If you are fond of fish, then this fish soup will be a delightful surprise you.
Tiramisu: For the most fulfilling experience, you have to complete you meal with this coffee-soaked sponge cake and mascarpone cheese. Its taste is just matchless.
This is not all! There are more such dishes to relish. So, plan quickly and book your tour to Italy with PerilloTours.com to enjoy Italian cuisine at its best!
Photo By:buzzle.com