Published on Monday, September 5, 2011 by Kathy McCabe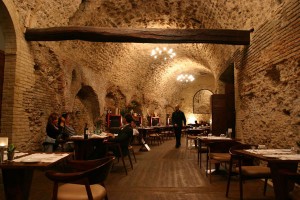 I'll be heading back to the central Italian region of Umbria in a few weeks and can't wait for my trip. Let me tell you about one of my favorite restaurants in Umbria…Dinner at Ristorante Redibis in the town of Bevagna is practically guaranteed to be one of the highlights of a visit to the region. The unique setting makes a lasting first impression. The dining area occupies the curving underground ambulacrum of a first-century Roman amphitheater so you're eating in the passageway where the gladiators entered the arena.
Redibis is actually part of the 14-room boutique hotel L'Orto degli Angeli. The entire property including the roman ruins and two palaces was purchased in the late 18th century by a Roman family related to the great architect Lorenzo Bernini. The latest descendent of the the Angeli Nieri Mongalli family,  Francesco and wife Tiziana run the relatively new hotel and restaurant with great attention to detail and a healthy appreciation – a very Umbrian attribute – for the past.
Many of the dishes on the seasonal menu at Redibis are from the hundred-year-old recipes of great-grandmother Caterina. It is an old meets new story here at Redibis, for while many of the recipes have a long history, the chef is a 30-something talent from the region of Emilia-Romagna.
While the setting and story of Redibis are indeed impressive, it would just be another restaurant were in not for the truly spectacular food and equally noteworthy serice. You'll be looking for that photo of Nonna Caterina and appreciating her talents and those of her modern interpreters.
Starters include a delicious Pecorino pudding with pear or beef carpaccio marinated in salt with a balsamic vinagrette and Parmesan mousse. The recipe for strapatelle was written in 1935 and is a homemade pasta with a tomato and bacon sauce flavored with marjoram. There's a more modern gnocci (made from bread dough) seasoned with saffron and ricotta salata (a popular Umbrian cheese). The most interesting offerings among the main entrees include veal cheek braised in Montefalco wine and scrambled eggs (it isn't just for breakfast anymore) with ricotta and sage.
As you can imagine, the dessert choices are equally scrumptious. There's Caterina's 1921 recipe for chocolate pudding with nuts and caramel or her 1912 sponge cake with lemon custard and white chocolate sauce. Redibis offers a tasting menus and since you will want to literally try everything here, take advantage of them and the talents of the staff in making terrific wine pairings.
Redibis is Latin for "I shall return." In Latin, English, Italian or the language of your choice, you will likely the same thing after an unforgettable dinner at this Umbrian gem.
By Kathy McCabe
Ready to plan your vacation in Umbria? Perillo Tours has been leading group trips throughout Italy since 1945 and ItalyVacations.com can custom design an independent itinerary for your dream Italy vacation!
Taking your first trip to Italy? Learn everything you need to know when you get your FREE copy of The First Timer's Guide to Italy by ItalyTravel.com contributor Kathy McCabe.