Published on Monday, September 5, 2011 by Daniel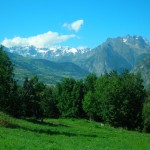 When you want some adventure in your vacation, look no further than Italy. With valleys and mountains spanning the country, you'll be totally keyed up right through your vacation in Italy. Talking about valleys, you can't just leave out the Aosta Valley in Italy. Situated on the northwestern border of the country, the Valle d'Aosta encloses four of the greatest Alpine peaks! These peaks along with the Dora Baltea River make it the ultimate place for almost all types of adventure sports! Know the top five things to do during your vacation in Italy's Aosta Valley:
Mountaineering: Climbing a mountain is fraught with challenges. And if you're someone who likes to take up challenges, then try your luck hiking the Gran Paradiso. You'll actually trek along a glacier to reach the summit. Though not fully, it's a bit hard-hitting to climb the final 60 odd meters. Who knows, you could make it with ease!
Mountain Biking: With fun mountain trails and endless serpentine roads all over, the valley is a pure bliss for bikers. While a few road routes are ideal for hobby biking, the off road routes is the hub for professional bikers. The Pila Bike Park near the mountain slopes and the La Thuile between Italy and France are popular adventure spots for biking! Indulge yourself in either a short biking venture or a longer tour as you wish!
Water Thrills: From serene water activities like boating, fishing, and rowing to more dynamic activities like rafting, canoeing, and windsurfing, the valley offers a host of water sport activities to give yourself over to.
Paragliding: The wonderful sights around the valley are a treat to the eyes, no doubt. But, if you can view the same in a gripping way, then it's a totally different experience. The Fans de Sports Club offers exciting paragliding activity that lets you take in those sunlit valleys, green meadows and amazing woodlands from high above the valley!
Relaxation: It's time to relax! Explore the Roman monuments like the Roman theatre, the Praetorian gateway, and other relics around the place, or just loosen up in the spa at Pre St Didier. But, it would be great if you could do both!
Rely on PerilloTours.com to have a great time doing exciting things in this Italian adventure spot!
Photo By:thefrenchbroad.com