Published on Sunday, October 9, 2011 by Kathy McCabe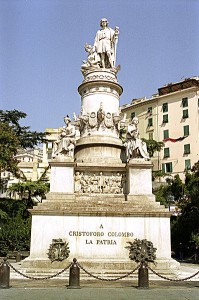 Perhaps the world's most famous explorer, Christopher Columbus was born in the port city of Genoa (Genova in Italian) in the northwestern corner of what is now Italy. Genoa was a republic at the time of the birth of Christopher Columbus in 1451. In honor of Columbus Day, here is a quick look at what to see in explorer's hometown, Genoa:
Historic Caruggi: The Caruggi area of Genoa is the largest continuously occupied historic center in Europe, with a maze of narrow, snaking alleyways (vicoli). In The Innocents Abroad, Mark Twain described the streets of Genoa as "crooked as a corkscrew." Henry James referred to Genoa as "the most intricate topographic entanglement in the world." The streets can barely fit two people walking side-by-side.
House of Columbus?: There is a house in the gardens below Porta Soprana  that is supposedly the childhood home of the great explorer but historians are not in agreement and those who have visited it say there isn't much to see. Still if you want to pay a visit, you can find the house on Piazza Dante, Molo. Visiting hours are 9 a.m. to 5 p.m., Tuesday through Sunday and admission is four euros per person. Call (39) 010 2465346
Celebrate the Sea: Genoa's Pavilion of the Sea and Navigation (part of the city's Aqaurium complex) explores the seafaring history of the city and its inhabitants. Learn more about the ships and voyages of yesteryear and get a better picture of what Columbus may have experienced in his travels.
Partake in the Pesto: Genoa is also the birthplace of pesto, a concoction of basil, olive oil, garlic, pine nuts and Romano and Pecorino cheeses. Small-leafed basil grows on the hills outside the city. You will find traditional pesto dishes in most of Genoa's restaurants.
Or if you're rather explore Genoa with an experienced guide, take this tour of the Portofino Coast which includes Genoa.
By Kathy McCabe
Ready to plan your Genoa vacation? Perillo Tours has been leading group trips throughout Italy since 1945 and ItalyVacations.com can custom design an independent itinerary for your dream Italy vacation!
Taking your first trip to Italy? Learn everything you need to know when you get your FREE copy of The First Timer's Guide to Italy by ItalyTravel.com contributor Kathy McCabe.
Photo by ADGE, Wikipedia.org