Published on Sunday, October 23, 2011 by Kathy McCabe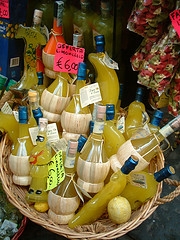 On the terraced hills of Italy's Amalfi Coast, the Mediterranean sun and ocean air combine with volcanic soil to produce lemons the size of grapefruits. For hundreds of years, southern Italians have used the thick, juicy skins of these Sorrento lemons, named after the nearby town of Sorrento, to create a sweet tangy, liqueur known as limoncello (as the Italian word for lemon is limone).
For generations, local families have passed down their own recipes for macerating lemon peels to create limoncello. Only four ingredients may go into the liqueur – lemon zest (the colored portion of the peel), grain alcohol (or vodka), water and sugar – but Italians argue that much can go wrong if those ingredients are not up to par, or if the maceration process is interrupted. There are hidden pitfalls everywhere. For example, the limoncello may not turn out right if the alcohol is not strong enough. Some recipes allow two weeks for the mixture to ferment; others insist on as many as 80 days.
Many Italians most often enjoy limoncello, which is almost always served cold, as an after-dinner digestivo. They keep the bottle in the freezer, along with a few dainty shot glasses. Just as so many Italian families seem to have their own time-tested limoncello recipes, so do many restaurants. Owners often bring out the unmarked bottle of yellow liquid along with frosted glasses as a treat for their favorite customers.
Limoncello is must-drink if you're visiting the Amalfi Coast but since it is the second only to Campari in popularlity and accounts for one-third of Italian liquor sales, you are sure to have the chance to taste it no matter where you are in Italy.
By Kathy McCabe
Want to visit the Amalfi Coast? Perillo Tours has been leading group trips throughout Italy since 1945 and ItalyVacations.com can custom design an independent itinerary for your dream Italy vacation!
Taking your first trip to Italy? Learn everything you need to know when you get your FREE copy of The First Timer's Guide to Italy by ItalyTravel.com contributor Kathy McCabe.
Photo by krissyho, flickr.com