Published on Sunday, October 16, 2011 by Kathy McCabe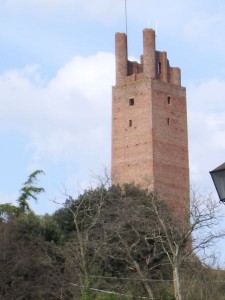 The town of San Miniato, located halfway between Pisa and Florence, is a must for history lover and foodies alike.  At the end of the 10th century, Otto I made San Miniato an outpost of the Holy Roman Empire.  In medieval times, the town sat on the via Francigena, an important pilgrimage route between northern Europe and Rome, bringing many visitors and invaders. In the 14th century, Frederick II ordered construction of the town's landmark fortress and tower.
Visitors flock to San Miniato in Tuscany for its prized white truffles. Interestingly, one-third of Italy's white truffles come from this town. The San Miniato National White Truffle Market is held the last three weekends of November and attracts truffle merchants and food lovers alike who come to celebrate the power of this rare tuber.
San Miniato's tower of the Rocca (pictured, also known as Frederick's tower) for a fantastic view of the surrounding countryside. It was heavily damaged in World War II and rebuilt brick by brick. You can buy a single ticket (for 5 euros) good for one year of visits to eight of San Miniato's museums including the Rocca and the archaeological museum.
Of course, San Miniato has a number of noteworthy churches. The church of San Domenico houses a tomb dedicated to the Florentine doctor Giovanni Chellini and modeled after a tomb in Florence's Santa Croce. The convent of San Francesco was supposedly founded by St. Francis of Asissi when he visited San Miniato in 1211. The Duomo's sanctuary (though rarely open) houses a crucifix said to have saved the town form the plague in 1637.
By Kathy McCabe
Ready to plan your Tuscany  vacation? Perillo Tours has been leading group trips throughout Italy since 1945 and ItalyVacations.com can custom design an independent itinerary for your dream Tuscany vacation!
Taking your first trip to Italy? Learn everything you need to know when you get your FREE copy of The First Timer's Guide to Italy by ItalyTravel.com contributor Kathy McCabe.
Photo by Luca Capro, Wikipedia.org