Published on Tuesday, October 4, 2011 by JacobMartin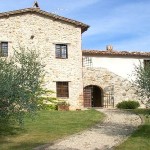 Umbria has a historical background that goes back to more than thousand years. This Italian region's beautiful architecture is a testimony of its past. The  abundant natural vegetation, a haven in today's brick and mortar world, makes it a perfect choice for family vacationing. Visit towns such as Assisi, Spoleto and Perugia when in Umbria. So, holiday in Umbria is all about adventure and fun.
Beauty
If you are fond of mountains, varied wildlife and sparkling lakes, then you can find it all here. Umbria has the fourth largest lake in Italy, the rain-fed Lake Trasimeno, and a large number of wildlife parks like Parco di Colfiorito with wetland habitats. Apart from a wide variety of flora and fauna, Umbria also abounds with numerous old churches, ancient castles, fortresses and Benedictine monasteries. It is also a treasure house of ancient manuscripts, contemporary art and artifacts. During your vacation in Umbria, you can enjoy the culture and traditions that are kept alive even today. The place breathes beauty and is enchanting in all aspects.
Food
If your family loves good food, then Umbria with its traditional restaurants will delight your taste buds. The food has fresh, natural flavor that is hard to resist. Moreover, even restaurants here carry historical artifacts. For instance, Ristorante Redibis in Bevagna creates a lasting impression with its setting and food. It occupies a curving underground ambulacrum of a Roman amphitheater. Here, they offer seasonal dishes from 100-year old recipes of grandmother Caterina. In Latin Redibis means "I shall return" and you will likely do the same thing if you've visited the place. If you are a chocolate-lover, visit the capital city, Perugia, known for its mouthwatering chocolates.
Your holiday in Umbria will please your eyes, soothe your senses and tickle your taste buds.
Places to stay
Where to stay at Umbria? There are many Umbria holiday villas to keep you in comfort and luxury during your stay. A lot of hotels offer spa treatments, so you can rejuvenate yourself.
Your holiday in Umbria will be fun and comfortable given its picturesque beauty, easy accommodation, and good food. Visiting Umbria can be made easy with Italy travel packages from ItalyVacations.com.
Photo By:static.paradizo.com