Published on Tuesday, November 8, 2011 by Kathy McCabe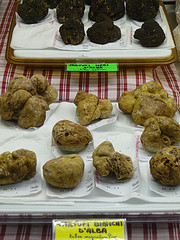 It is the season for white truffles (tartufi bianchi)  also known in Italy as "white diamonds" for their expensive price of hundreds of dollars for just a hundred grams. One group of these rare gems can be found around Alba in the region of Piedmont and the whole area seems to go truffle crazy in the month of November.
There are five kinds of white truffles of Alba, depending on the type tree on whose root it grows. These truffles grow on the roots of poplar, linden, weeping willow and vine trees. The tree influences the color of the truffle, anywhere from pink to a dusty brown, and smell, for example, the oak tree produces the most odorous truffle. The truffles grow from late August to January, with peak season between September and December. During this time, some 1,500 licensed trifolao (truffle hunters) roam the forests of the Langhe, Monferrato and Roero hills (only fenced areas are off limits), walking sticks (which double as digging devices) in hand.
But that's not all they take with them. Here in Piedmont (versus other areas of Italy and France where pigs are used), dogs are the most trusted tools of truffle hunters. Local trifolao claim they're easier to train than pigs and less likely to eat their expensive finds.
While all this might resemble a quaint countryside picture man and his dog traipsing through the forest in search of white gold (by the way, there are a few dozen female truffle hunters here) it is not. Its actually more like blood sport. Competition is fierce and secrecy is paramount. Trifolao roam the forests at night in order to hide their movements and also set up decoys. Top notch hunting dogs have been poisoned and held for ransom.
With all of the intrigue surrounding the search for truffles, it is usually difficult to find a hunter who will demonstrate his passion. Brothers Giorgio and Natale Romagnolo, members of a five-generation-strong family of truffle hunters, have opened up their family home for visits in order to share their love of truffle hunting. During white truffle season, Giorgio and Natale and their dogstake guests into the woods to show them how the dogs find the truffles and signal their owners where to look. After the hunt, the group returns to La Casa del Trifulau for some truffle tasting and truffle-inspired conversation.
Another must for any truffle tourist traveling to Piedmont in November is the month-long truffle fair or Fiera Nazionale del Tartufo  that has been held in the medieval city of Alba since 1929. The true heart of the fair is courtyard of the Palazzo Maddalena, where a truffle market is held. Truffle hunters put their freshly procured white diamonds up for sale. Other vendors sell other truffle products and regional specialties.
For serious truffle aficionados and those with seriously deep pockets, the World Truffle Auction at the beautiful Castello di Grinzane Cavour is the highlight of the truffle season. Depending on the harvest, a dozen or more truffles are auctioned off at the castle and simultaneously at several locations around the world, with the proceeds (one truffle can sell for over $100,000) going to charity and the winning bid on the largest truffle inevitably breaking records and appearing in the press worldwide.
Whether you are visiting Piedmont in November or another time of the year, our sister site ItalyVacations.com has partnered with Slow Food Italia to bring you the very best culinary experiences (including the chance to learn more about white truffles!) in the and around Alba.  Here are some of the incredible Slow Food-focused excursions:
By Kathy McCabe
Taking your first trip to Italy? Learn everything you need to know when you get your FREE copy of The First Timer's Guide to Italy by ItalyTravel.com contributor Kathy McCabe.
 Photo by Blue Moon in Her Eyes, flickr.com