Published on Sunday, November 20, 2011 by Kathy McCabe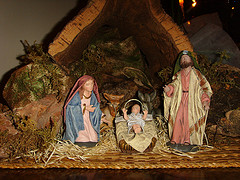 I'm just back from a few weeks in Italy where I saw the first signs of the holidays with Christmas trees in shop windows and a few presepi on display. A presepio is a creche or Nativity scene and  handmade versions by Italian artisans are an integral part of Italian Christmas celebrations.  If you will be in Italy during the holiday season, here are a few places to enjoy this Italian tradition:
Naples: While they are constructed in various places around the country, Naples is home to world's most famous presepi craftsmen. In fact, the Via San Gregorio Armeno in Naples, is home to a handful of world-famous studios  where artisans practice the age-old tradition of crafting Nativity figurines out of terra cotta.
However, just because it is an old tradition doesn't mean they don't give it a new twist. Each year, artists make Nativity figurines that represent public figures such as Silvio Berlusconi, Barack Obama and  Nicholas Sarkozy. Even if you don't make it here during December, the  shops on "Nativity Row"  are open year-round.
Rome:  If your travels don't bring you as far south as Naples, there's plenty of presepi action in Rome this time of year. For more than 30 years, each Christmas season, more than 100 Nativity scenes from around Italy go on display at Sala del Bramante in Rome's Piazza del Popolo. You can witness the handiwork of Neapolitan artisans with crèches dating back to the 17th century.
You may also want to head over to Rome's Museo del Presepio. Run by the Italian Association of Friends of the Nativity, which was founded in Rome in 1953 with the mission of keeping alive the tradition of the crib, the museum contains more than 3,000 Nativity figures from all the regions of Italy as well as from many other nations.
Puglia: Maybe a static Nativity scene just doesn't cut it for you? Well, in that case, head down to the region of Puglia for a live Nativity display. (There are others in Italy but this one is particularly noteworthy and large.)
Il Presepe Vivente di Tricase takes place each year in Tricase, a town almost at the tip of the Italian heel. About 250 locals work to put on the nativity pageant that has earned the town the name "The Bethlehem of Italy." It is usually scheduled for December 25, 26, 27 and January 1, 4 and 6.
By Kathy McCabe
Ready to plan a Christmas vacation in Italy? Perillo Tours has been leading group trips throughout Italy since 1945 and ItalyVacations.com can custom design an independent itinerary for your dream Italy vacation!
Taking your first trip to Italy? Learn everything you need to know when you get your FREE copy of The First Timer's Guide to Italy by ItalyTravel.com contributor Kathy McCabe.
Photo by  Treviato, flickr.com