Published on Friday, November 11, 2011 by Daniel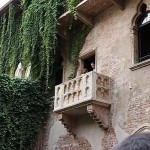 "O Romeo, Romeo! wherefore art thou Romeo?" This is a popular line from one of the best love stories of all times, Romeo and Juliet. Depicting the city of Verona as a backdrop, this Shakespearean play is one among the many plays set in this romantic and beautiful Italian city.
If you like to know about many other historic and architectural attractions of Verona, here are the top five must-visit places.
Juliet's Balcony
If you want to feel the contrasted love of Juliet, then you visit the Romeo and Juliet Balcony, which is said to be the balcony of Juliet from where she quoted love to Romeo. Apart from the literary background, the Juliet's house is a very good example of Gothic architecture and period furniture and hence becomes one of the major attractions of Verona.
Castelvecchio and the Scaligero Bridge
Castelvecchio literally meaning 'old castle' built as a residence or fortress. This is a 14th-century medieval castle that served to protect Verona from the invading armies. Today it represents a military monument. With the bridge projecting the castle on the other side of the river, this place is a beautiful historic spot to watch.
The Cathedral of Verona
The Verona's cathedral or Duomo di Verona, dating back 12th century, is full of early Christian artifacts and the paintings of Titian. The interior carved with bible scenes in a single block of red marble, showcases the best architectural piece of the early Italian history. The double arched entrance and fascinating interiors attract thousands of visitors from different parts of the world.
The Verona Arena
Arena Di Verona is the largest Roman amphitheatre in Italy with a capacity of 25,000 people. Being the venue of concerts and opera performances, this place is famous worldwide. It is a very old theatre built during first century AD, with red marble stones creating a particular chromatic effect.
Piazza delle Erbe in Verona
Just like many other attractions of Verona, Piazza delle Erbe is also one of the most picturesque and historical square cities in Italy. Literally meaning the square of Herbs, this place is now a local market and a colorful spot. With bright colored fruits and vegetables, the aromas of the herbs here definitely woo one and all. The best time to visit the piazza is in the evening, when the entire place comes alive.
Apart from tourist attractions, Verona offers lot of places for accommodation and luxury feats. There are many holiday villas, B&Bs, hotels and hostels that are considered to be one of the best accommodations in Verona. Tickling your taste buds with Verona's most hunted foods like 'peperita', 'pastisada de caval', 'paparele' and DOC wines, you are sure to have a good stay in Verona.
Photo By: blog.travelpod.com