Published on Sunday, November 20, 2011 by Daniel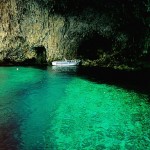 La Grotta Zinzulusa is one of Italy's most unusual tourist attractions. Discovered in 1793, these renowned caves of Zinzulusa are one of the best examples of the karst phenomenon on the Italian coast of the Adriatic Sea. Highlighted for their strange formations, these waterside caves are located between Castro Marina and Santa Cesarea Terme.  There walls are 25 meters high with  stalactites hanging from the rooftop, with full of alabastra stones inside in irregular shapes. Thousands of bats live there too.
La Grotta Zinzulusa or the Zinsulusa caves are popular for the presence of rare species of animals like the sponges, and shrimp-free eyes. As these caves have an isolated atmosphere, it is greatly possible for these rare species to breed and survive. If you are a tourist looking for an adventurous trip, can there be a better choice than these stunning caves in Italy?
Besides the enormous sight of these waterside caves, Zinsulusa caves have many archeological values attracting many tourists worldwide. With human traces from the Neolithic to Roman era, and the fossils of elephants and cats, this place is an epithet of the precious past and historic values of Italy.
Italian caves may be dark and damp, yet they are always the perfect tourist attractions! No matter where you are in Italy, you are likely to visit something old and precious. With the stunning and attractive caves, your vacation in Italy will never be a not-so-good experience.
If your trip this time is to explore the Grotta Zinzulusa and other caves for a whole new experience, all you have to do is contact one of the best tour providers like ItalyVacations.com and book your trip immediately!
Photo By: erriquezviaggi.it