Published on Wednesday, November 30, 2011 by JacobMartin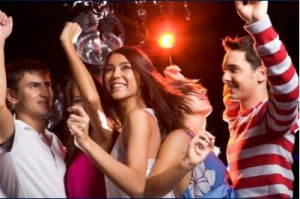 As a country blessed with natural beauty and ancient ruins,  days  spent in Italy are glorious for tourists. But does the same apply to the nightlife? People who have been to Italy would definitely say nightlife in Italy is an experience anyone who likes to party would love.
Visiting Italian night clubs, discos, deejays and cinemas make evenings, fun and enjoyable. In most of Italy's cities you will find celebrations change along with the seasons. You can find a lot of outdoor concerts and special events during summer. Italians love to spend time outdoors, so you will find lots of activities in Italy especially during summer nights.
People of all age groups spend evenings out. You might even find parents taking their children along with them to Italian bars. Even though these bars offer drinks, people primarily come for having fun with their friends. No one usually gets drunk.
In big cities, night life is more exuberant as there are large student communities. Hence there are lots of music and dancing in the clubs. There are several jazz clubs where international musicians perform. Nowadays, Brazilian music has also become popular. But if you are looking forward to traditional Italian music, you will find it difficult to find. But once found they are definitely a treat. These nights are stretched to the early hours.
The exquisite culinary activity adds spice to nightlife in Italy. There are plenty of restaurants that offer lip-smacking dishes. Most of these will have tables set outside.
As a tourist you can even enjoy natural beauty in certain parts of the country at night. Night walks are common in cities such as Rome, Florence and Venice. During night, the panorama is quite different from normal day viewing.
If you are enthralled by an Italy vacation, and are planning on a trip to Italy, you may log on to PerilloTours.com as they offer the best tour packages online. They offer great service that will make each moment of your stay in Italy count.
Photo By: italy-vacation-homes.com