Published on Thursday, November 24, 2011 by Daniel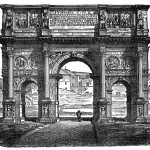 Rome is always a favorite place for travelers to Italy. Nearly every piazza in Rome and Vatican City is decorated with a beautiful fountain at its centre, they are not just simply the feast for your eyes, but they are very architectural too. Certainly, there can be no other city in the world that has more such fountains like the ancient Roman architecture. Being an epithet of pure art works, these fountains are the best tourist attraction and a must-visit when you are in Rome.
Do you know how many fountains Rome has? For your surprise, there are 280 of them. Now you know why Rome is called as the "Eternal City" with its 3,000 years of history. Out of all these, let us just see few well known fountains of Rome and how remarkable they are.
Trevi Fountain
Your tour of Rome would be incomplete without a visit to the most popular Trevi Fountain. This beautiful olden monument and the Baroque masterpiece, was built during 18th century. Being one of Rome's famous landmarks of urban landscapes, the Fontana di Trevi carries architectural and decorative elements driving hordes of tourists. People have a practice of throwing a coin in the water below, with a belief that this will ensure their second visit to Rome.
Bernini Fountains
Designed by one of the most prolific artists in Rome, Gianlorenzo Bernini, these four river fountains stand for the four continents known at that time. These breathtaking Bernini fountains in Piazza Navona, are carved artistically and are one among Rome's famous fountains.
Fontana delle Tartarughe
This piece of art is built in 1581, designed by Giacomo della Porta, with artworks adapted from ancient Roman architecture and fountains. The Fontana delle Tartarughe is made from African marble that is mounted on a pedestal in the centre, with four male figures supporting on dolphins, and helping tiny turtles into the small pool above them. Located nearby to Campo de' Fiori, you will not have to make a long trip to this place.
Fontana delle Naiadi
Being Rome's most sensual fountain, this fountain of the Nymphs, is built during 19th and early 20th centuries. Decorated by Piazza della Repubblica, this fountain is surrounded by four nymphs and a water God at the centre of the pool. The nymphs artistically represent four kinds of water – the rivers, the oceans, the lakes and the underground waters.
With such amazing architectures and rich Italian culture, every single fountains of Rome is worth a visit. You can have the pleasure of being in this remarkable "Eternal City" and visit many of such Rome Tourist Attractions, with best tour providers like PerilloTours.com. With stunning architectural beauty, Rome never ceases to amaze people.
Photo By: karenswhimsy.com