Published on Wednesday, November 23, 2011 by JacobMartin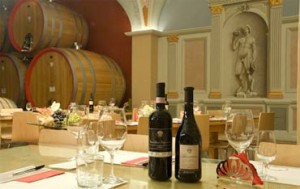 Have you embarked on a trip to Italy and want to get the essence of this lovely country? What about the delicious Italian wine? The trip to Italy would not be complete if you miss to taste the Bardolino wine which is particularly made for all wine lovers and the special moments at Bardolino wine festival. As Romans are the ones who have started hosting with a glass of wine and a popular phrase of "drinking to one's health", Italian wines are not just tasty but healthy too.
Bardolino is a beautiful town and a lively resort situated on the eastern shore of Lake Garda. Being the tourist attraction for around 100 years, this town is popular for its delicious D.O.C red wine which is cultivated in the green morainal hills behind Bardolino. If you are a wine lover, then your mouth will start watering even when you think about this Bardolino red wine! Yet, Bardolino is not just for tasting wine, there are many more places to explore.
The Bardolino Wine Festival, known as the Festa dell'Uva, is sure to make your trip all the more special. Around 4000 people, attending this festival every year, for it is not just wine tasting festival. With amazing concerts, fireworks and plenty of Italian foods, you will have the pleasure and fun of being in Bardolino.
Apart from this festival of wine, the next thing that you would really love is the Bardolino Museum of wine or the Museo del Vino. Located in the hill side, here you can witness how wine is made in this town and you can taste a sample for free! Like Valpolicella and Chianti of Italy, Bardolino wine region is also popular for being very fresh and homogenous. You can sense the joy and pleasure associated with a glass of this fermented grape juice.
Now you know that for a romantic and relaxing getaway, there is no better place than Bardolino. Make your Italy vacation to Bardolino this time, and you will want to be back again and again! To make it even more delightful, book your tour with PerilloTours.com. You will never want to leave Italy then!
Photo By: veronissima.com