Published on Tuesday, December 27, 2011 by JacobMartin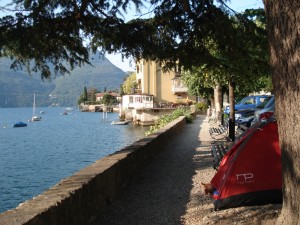 Share the lighter moments of your life with your friends and relatives for camping at Lake Como. This spectacular lake side is visited throughout the year by tourists from all over the world.
More than the fascinating facts, it is the scenic beauty and the mild temperature that has captured the imagination of these tourists. Deepest of all the lakes in Italy, Lake Como has a unique 'inverted Y' shape which adds to the attraction.
Transportation to Lake Como in Italy is not an issue as it lies on the Milan to Switzerland railway line. Milan's Malpensa Airport is also within 40 miles. Once you reach the lake, you can see plenty of villas, resorts and a number of campsites around it. For a more adventurous experience, try camping.
The lake offers plenty of scope for entertainment with breathtaking views and exciting water activities. The town of Bellagio is one of the many Lake Como attractions. It is the meeting point of the three branches of the Y-shaped Lake. It is a gorgeous setting that can be visited either by bus or by ferry.
To add spice to your camping, you can go for hiking in any of the many hiking paths that surrounds the Lake Como in Italy. Menaggio, set against the beautiful Alps, is one of the prominent lakeside resorts and a favorite among tourists who love outdoor activities.
Other places worth visiting include the Villa Carlotta for its beautiful gardens, the fishing village of Varenna and the Villa del Balbianello that served as a set for one of the Star Wars movie and Ocean's Twelve. As an outdoor enthusiast, you can indulge in hiking, mountain biking, boating, and paragliding, rock climbing and even skiing during winter. Not just adventure lovers, shopaholics too have a reason to rejoice. The town of Como is very famous for its silk.
Camping at Lake Como will always be a memorable experience, given the warm-hearted welcome of the Italians, their culinary delicacies and the scenic beauty. If you are interested in a tour to Italy, then log on to PerilloTours.com. They offer some attractive tour packages that will help you experience the best of the country.
Photo By: olivermunnik.wordpress.com