Published on Thursday, December 29, 2011 by JacobMartin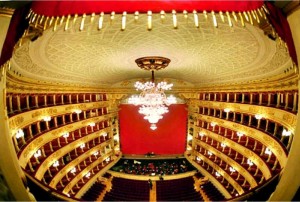 Italy's marvelous opera houses are a real treat for people who enjoy music. The country saw its first opera house in the earlier part of the 17th century. Ever since, opera has been very popular with Italians and visiting foreigners.
During your vacation, visiting Italian opera houses can enliven your evenings. You will find plenty of them throughout the country. But you will have to book your tickets ahead of time because they are often booked to capacity. Here are some of the popular opera houses that you will find interesting.
Teatro Alla Scala: This magnificent opera house in Milan is one of the most famous opera houses in the world. It was renovated and re-opened in 2004. Now it has a bookshop, bar and a history museum. In the museum, you can find several interesting paintings, statues and costumes which provide an insight into the theatre's history.
Teatro Massimo Bellini: Located in Catania, the theatre has a long standing relationship with the local composer Vincenzo Bellini. Nearly all of his works have been performed here. You can watch operas and ballets throughout the year in this beautiful opera house.
Teatro La Fenice: In Italian, Teatro La Fenice means 'the Phoenix'. No other name could have been more suitable to this opera house that was rebuilt twice after being burnt down. But you will never realize it when looking at the building. This place is definitely worth a visit and a click, while you are in Venice.
Teatro Comunale di Bologna: You will be able to watch stunning opera, musical and symphony performances in this beautiful opera house. It is one of the oldest theatres in Italy. It was built in the Baroque era, so it is a great example of the architecture that prevailed during the time.
Spending your evenings in these theatres will surely give you a lot of cherishable memories. The opera house events are glorious and moreover, a reflection of the rich Italian culture. The Italian opera houses mentioned above are just the tip of the ice-berg. If you take a trip to the beautiful country, you can find plenty of such wonderful entertainment spots.
So, if you are interested in visiting Italy with your family, you can plan with PerilloTours.com. They are offering some amazing tour packages for Italy.
Photo By: euroteam.travel