Published on Sunday, December 11, 2011 by Kathy McCabe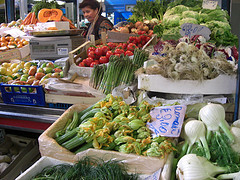 Foodies in the know say that Testaccio Market (Mercato di Testaccio) is one of the best places in Rome to buy meats, cheeses, fruit, vegetables, seafood and all the key ingredients for cooking an authentic Italian meal. Testaccio  is the city's traditional working class neighborhood (and home to former slaughterhouses) located on on the left bank of the Tiber River south of the Aventine Hill. 
For nearly 100 years, over 50 vendors have been selling their staples in this covered space in Piazza Testaccio. But change is afoot — the market will soon be closing and relocating as part of a more modern space several blocks away. Some of the current food merchants have worked in this space for 40, 50 years — Alvaro, one of the fishmongers has worked here for 70 years!
The new Testaccio Market, which was spearheaded by the local government in order to attract greater private investment in the neighborhood, has been controversial in Testaccio, especially with the vendors. Rents will be double in the new facility. How will vendors make up the difference? If they pass along the costs to the customers, their prices will not be competitive with local supermarkets. The only hope is to increase sales volume. The new market will have underground parking and could attract customers from all over Rome.  
If you are in Rome during the winter and spring of 2012, do yourself a favor and head over to the historic Testaccio Market to experience a piece of Rome's culinary landscape that will soon be changed forever.
By Kathy McCabe
Planning a trip to Rome? Perillo Tours has been leading group trips throughout Italy since 1945 and ItalyVacations.com can custom design an independent itinerary for your dream Italy vacation!
Taking your first trip to Italy? Learn everything you need to know when you get your FREE copy of The First Timer's Guide to Italy by ItalyTravel.com contributor Kathy McCabe.
Photo by e_calamar, flickr.com